What's bothering you?
Is your home uncomfortable, drafty, stuffy, or damp?
Do your feet get cold in winter while your upstairs bedrooms are too hot in the summer?
Do you suffer from allergies and notice a lot of dust and odors in your house?
Are your energy bills higher than they should be?
We can fix that. E3's science-based diagnostic testing helps identify the root cause of the problem.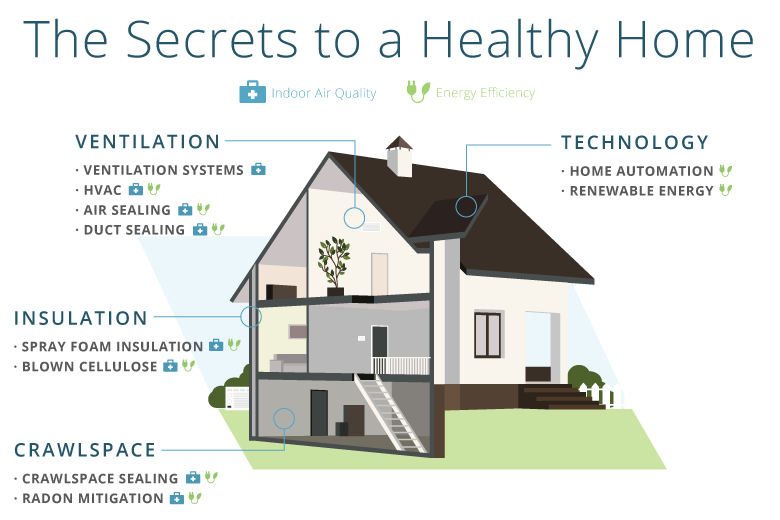 Your building is a system.
When it comes to building improvements, the hardest part is often deciding where to start. E3 INNOVATE uses a systematic, science-based approach that not only determines the most cost-effective way to improve your home or business, but also helps you get the highest return on your investment. Instead of concentrating on an individual problem, we assess the entire building to determine the best ways to upgrade its overall performance while staying within your budget.
A little improvement goes a long way.
Our goal is to help you make informed decisions on how to best improve your home or commercial space's performance. You'll receive a custom report with detailed testing and modeling results, followed by proposals for improvements that fit your needs and budget.
A certified energy auditor is only a call away.
Call us today (615-876-5479) to schedule a Comprehensive Energy Audit. We'll arrange for a convenient time to visit your home or business for a thorough tour to address any questions and concerns, including basement, attic, and crawlspace surveys; a blower door test; thermal imaging; and more!
Have E3 EcoWorks provide the upgrades, and your energy audit is on us.
That's right!  Our own dedicated E3 EcoWorks Team can carry out the recommended improvements using premium green products and your E3 INNOVATE Consultant will serve as your liaison and conduct the final diagnostic testing.
Our step-by-step approach.
We start by listening to your concerns and taking note of the issues to address during the evaluation and testing of you home. During the test, we assess the whole building to get a complete understanding of how your home currently performs and what may be causing your issues. Our testing procedure includes attic and crawlspace or basement evaluations, blower door testing, thermal imaging, duct leakage testing, and more! Afterwards, you receive a report that summarizes our findings and provides a custom set of recommendations that fit your needs and your budget. 
"For the record, my electric bills have shown approximately a 20% reduction in usage per month since the crawlspace was enclosed. The hardwood floors in the main level are so comfortable to walk on even without socks in this cold winter weather. At the current price of propane, I estimate we will save around $450 in fuel this year. Not only are we using less energy, we are living and breathing in a lot cleaner and healthier environment. Thanks for a great job E3! I highly recommend your company."
- Sandy H., Homeowner
Select the test that best fits your needs.
We offer three testing options – Basic, Extensive and Comprehensive – and a variety of supplementary services that can be added to serve your specific needs. Click here for pricing and to learn more about your options.
A certified energy auditor is only a click away. 
Complete the intake form on the bottom of this page and receive $30 off your Diagnostic Test. Click here to start!
Have E3 EcoWorks provide the upgrades and your energy audit is on us!
That's right! Our own dedicated E3 EcoWorks Team can carry out the recommended improvements using premium products installed by our highly trained team while your E3 INNOVATE consultant serves as your point of contact and will provide quality control on our work.
Our work doesn't stop there.
E3 offers extended maintenance service plans that helps ensure your home continues to perform year after year. In the same way your mechanic provides routine maintenance on your vehicle, E3 will check all the systems in your home on a regular basis to keep it running smoothly. From annual equipment servicing to routine crawlspace and attic evaluations and cleaning, we take care of it so you don't have to. Talk to a certified expert today for more information. 
"We are very pleased with the results of the work E3 completed in terms of performance, comfort, and pest control. Before the work was completed, we had a continuous problem with house centipedes. Thankfully, we no longer see those unwelcome visitors!"
- Sandy D., Homeowner
FAQs
How long does an audit take? Will I need to be present?
Depending on the house, an audit takes somewhere between 2 to 3 hours. Ideally, we would love for you to be present during the audit so we can address any questions you may have for us, or questions we may have for you. We're committed to helping our clients make informed decisions, so we prefer to have you present during the audit.
Services & Certifications
Common Issues We Solve
Start your project right away
Ready to start your project?