4 Common Construction Problems in New Homes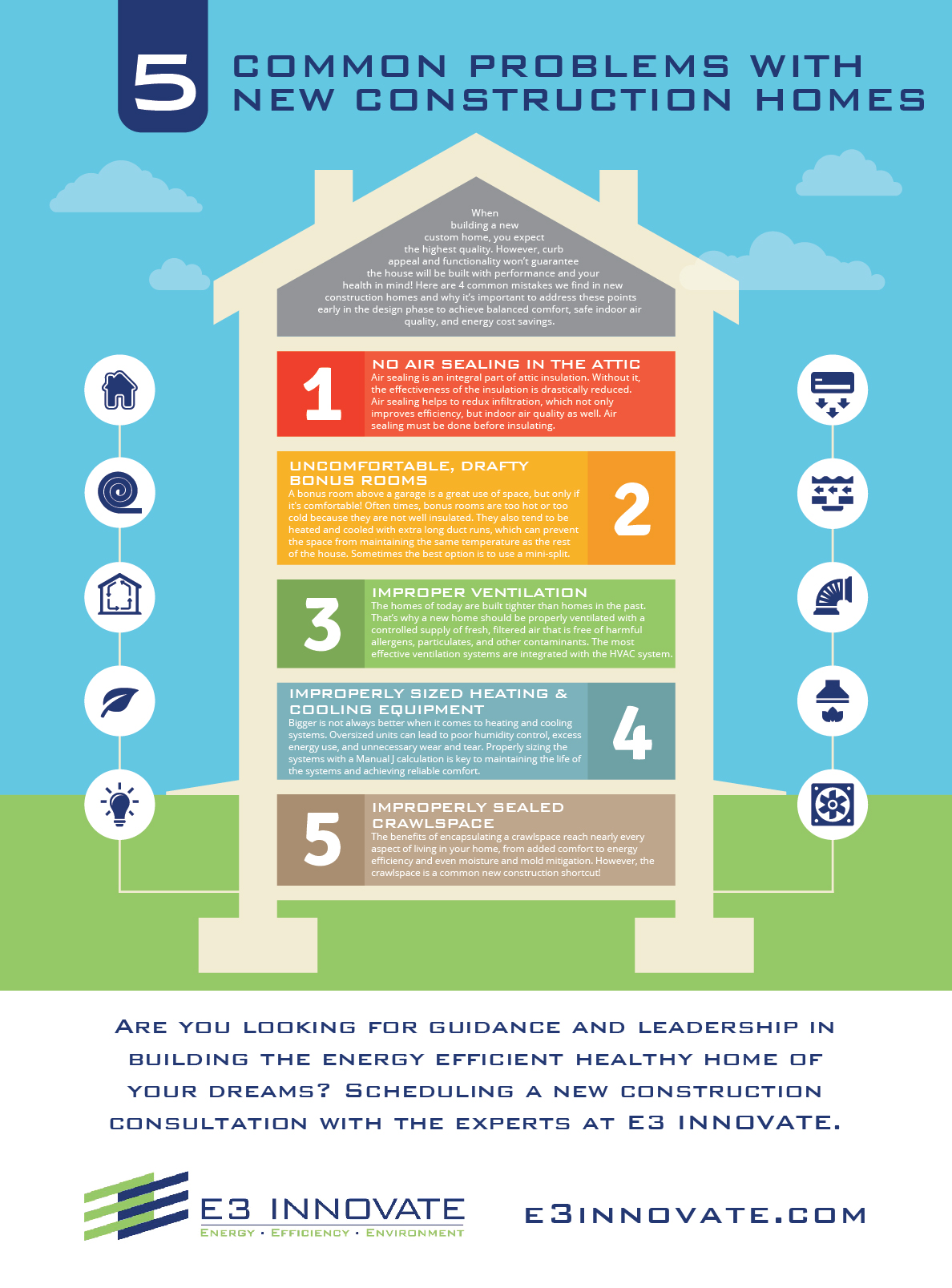 When building a new custom home, you expect the highest quality. However, curb appeal and functionality won't guarantee the house will be built with performance and your health in mind! Here are 4 common mistakes we find in new construction homes and why it's important to address these points early in the design phase to achieve balanced comfort, safe indoor air quality, and energy cost savings. 
No Air Sealing In The Attic
Air sealing is an integral part of attic insulation. Without it, the effectiveness of the insulation is drastically reduced. Air sealing helps to reduce infiltration, which not only improves efficiency, but indoor air quality as well. Air sealing must be done before insulating.
No Insulation In the Garage
Though your garage may not impact much of how you live in your space, it can certainly affect how you feel in your space! An insulated garage can actually keep the temperatures throughout your home more stable.
Improper Ventilation
The homes of today are built tighter than homes in the past. That's why a new home should be properly ventilated with a controlled supply of fresh, filtered air that is free of harmful allergens, particulates, and other contaminants. The most effective ventilation systems are integrated with the HVAC system.
Improperly Sized Heating & Cooling Equipment
Bigger is not always better when it comes to heating and cooling systems. Oversized units can lead to poor humidity control, excess energy use, and unnecessary wear and tear. Properly sizing the systems with a Manual J calculation is key to maintaining the life of the systems and achieving reliable comfort.
 
Improperly Sealed Crawlspace
The benefits of encapsulating a crawlspace reach nearly every aspect of living in your home, from added comfort to energy efficiency and even moisture and mold mitigation. However, the crawlspace is a common new construction shortcut!
Are you looking for guidance and leadership in building the energy efficient healthy home of your dreams? Scheduling a new construction consultation with the experts at E3 INNOVATE.