Belle Meade Historic Home Renovation
In this article, we feature a1920's nationally registered historic home in the Belle Meade neighborhood of Nashville that was carefully gutted and transformed into a high-performer.  E3 served on the design, engineering, and construction teams during the 2015 and 2016 project scope.  A portion of the front exterior shell and the front roof were preserved but the rest was updated with new construction materials and technology.  This three thousand square-foot estate was strategically crafted to comply with the historic commission to preserve the original charm.
The homeowners wanted to create a healthy, efficient, and sustainable home for their family. To achieve this, E3 provided design-build services and helped the architect and builder incorporate high-performance details into the project plans. During the design phase, E3 provided performance optimization modeling, HVAC load calculations and design, ventilation design, and other technology guidance and recommendations. During construction, E3 worked on site to install spray foam insulation, a sealed crawlspace system, an encapsulated attic, and a radon mitigation system and provided continuous quality assurance. Once the project was complete, E3 completed post-construction testing and commissioning to insure the home performed as designed. As a result, the homeowners now enjoy:
Healthy indoor air quality
Balanced comfort
Lower energy bills compared to standard construction
A high-performance, durable, and sustainable home.
Before moving into the Belle Mead area, this family of four lived further out of town.  By moving closer to the city's center, their kids can now walk to school and they are much closer to their extracurricular activities. Not only have they reduced their miles driven, they have saved time commuting as well.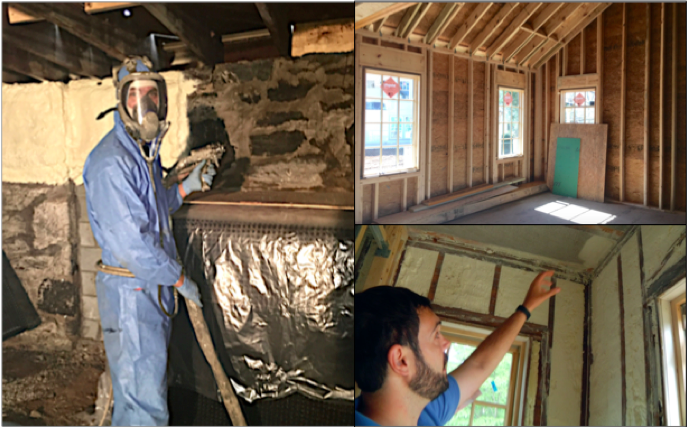 Location isn't the only sustainable feature of this home. Through E3's efforts to maximize the building envelope performance, the homeowners were able to decrease the energy requirement for heating and cooling; a tighter building shell reduces the amount of uncontrolled air exchange that happens between the conditioned indoor air and the unconditioned outdoor air. Our energy modeling indicated that this 3,100 square-foot home would require only three-tons of air conditioning to meet the load. Strategic air sealing and a Grade 1 spray foam insulation installation in the envelope helped make this possible. It is not uncommon to see eight or nine or more tons of capacity installed on a standard new home of this size. In this case, less capacity means less energy consumption, lower utility bills, and less maintenance. Additionally, a properly sized system is better suited to manage indoor humidity levels, satisfying comfort and indoor air quality.
"Never build a home larger than you can afford to sprayfoam." - Homeowner
The final envelope leakage test revealed a very tight envelope – just 1.8 air changes per hour – that was achieved by performing a pre-drywall blower door test. During the pre-drywall test, an infrared camera was used to identify air gaps that were missed during the sprayfoam installation. These gaps were sealed on the spot with a hand-held caulk gun. Because the envelope ended up so tight, a mechanical ventilation system was required by code (all homes with an air change rate of 5 or less require mechanical ventilation). With E3's experience, the design team anticipated these results and strategically incorporated a 44-cfm whole-house ventilation system into the mechanical design to provide fresh air in a controlled manner. This system will also help reduce indoor odors and protect against high radon gas concentrations.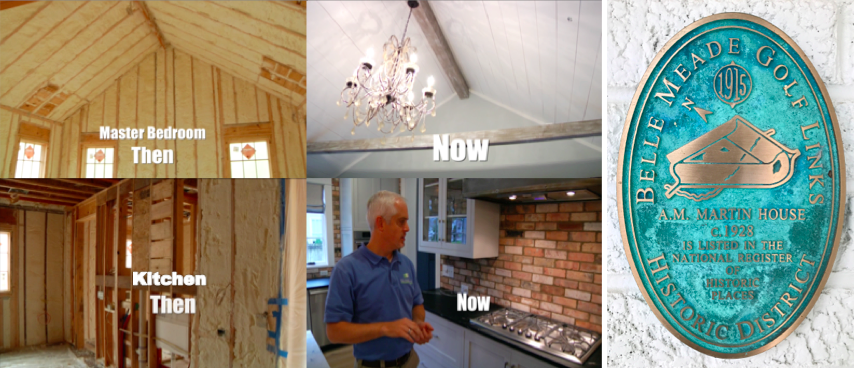 As part of this high performance home, E3 also installed a sealed crawlspace and an active radon mitigation system. Once the house was complete, we ran a test with the mitigation and ventilation systems turned off to see what the radon levels would have been without this equipment. Levels reached 77 pCi/L in the basement and 24 pCi/L in the master bedroom on the main floor. After turning the systems on, we re-ran the test and this time, radon levels dropped to 1.7 and 0.9, respectively. The three-month long-term average was 2.8. Success!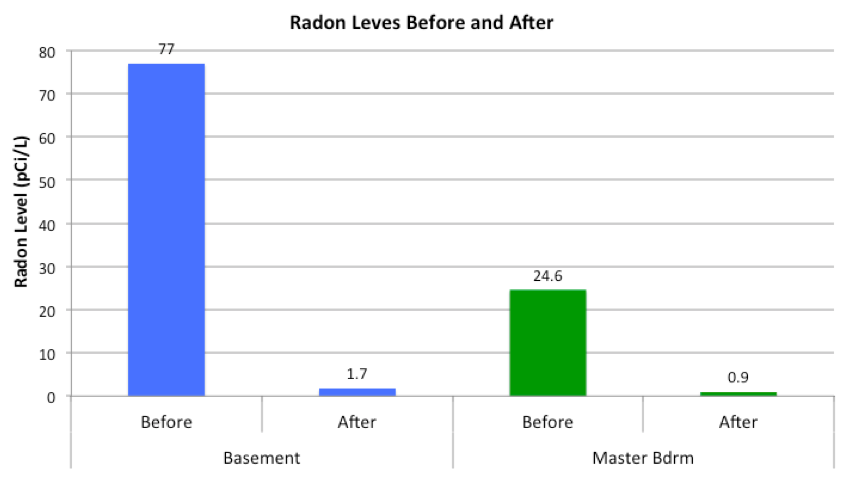 At the end of the project, E3 performed a Home Energy Rating System (HERS) rating. This home achieved a HERS rating of 54, which estimates that this house uses 46% less energy than a standard home built to 2006 code standards.  Our energy model predicted an annual consumption of 22.8 kBtu/sqft/year. For reference, the average home in Tennessee consumes 42.5 kBtu/sqft/year.

What features help make this a high-performance home?
Advanced Framing: Advanced framing uses 2X6 studs spaced 24" apart, whereas standard framing uses 2X4 studs spaced 16" apart. Heat transfer occurs more easily across studs than it does through insulation, so creating larger cavities for insulation reduces the amount of heat lost or gained through the envelope.
ZIP System: Zip sheathing eliminates the need for house wrap and keeps out the water and the air with one product. In this way, it reduces infiltration and prevents moisture damage more effectively.
Sealed Crawlspace: Sealing and partially conditioning the basement creates a thermal barrier between the ground and the living space. This helps keeps floors warmer in the winter and prevents infiltration of damp air and soil gases. The exposed floor and foundation walls are insulated with R-20.9 and R-12, respectively.
Sealed Attic: The attic is sealed with sprayfoam insulation, giving it an R-value of 30.
Spray-foamed Envelope: The exterior walls of the home are insulated with sprayfoam, which provides an effective thermal barrier and helps reduce infiltration. This reduces the load on the heating and cooling system, and helps maintain comfortable indoor conditions in all seasons.
Active Fresh Air Ventilation Strategy: The ventilation system supplies the home with fresh air in a controlled manner, reduces indoor odors, and helps prevent radon gas accumulation.
Top-of-the-line Ground Source Heat Pump: The ground source heat pump serves the domestic hot water needs as well as the heating and cooling needs. This technology uses the relatively constant temperature of the earth as a heat source and a heat sink, depending on the needs of the system. Learn more about ground source heat pumps here.
The homeowners are very satisfied and excited about their newly remodeled home. Take a look at the Then and Now video of this project and see the transformation unfold.