Creating a healthy home for a bundle of love
With a baby on the way, the Myers' family was concerned about their indoor radon levels. Their initial 26-day test result in the soon-to-be nursery came back at 11.2 pCi/L. The recommended indoor level is 4.0 pCi/L. Mike and Lisa Myers reached out to E3 to evaluate the issue.
Mike and Lisa purchased their 1930's East Nashville classic cottage a little over 2 years ago with the intention of staying in their home for a number of years. They wanted to solve the radon problem so they didn't have to think about it in the future.
They started the process as any homeowner would, by collecting quotes from different local businesses. Once they found E3, they were surprised to learn that a whole-home assessment would be required before receiving our quote. The whole-home assessment is a 2-3 hour on-site inspection, which often includes blower door and duct blaster testing. This process helps us understand the current performance of the house and how well all of the systems are working together to provide healthy indoor air quality, comfort, and efficiency.  We take the information from this inspection and testing process and prepare a proposal that addresses the underlying concern. The Myers liked the holistic approach and decided to do the assessment.
After completing the inspection and diagnostic testing, E3 prepared a Good/Better/Best set of recommendations for the homeowner and met with them to review the different options. During the review, the homeowners mentioned that our quote was by far the most comprehensive, but didn't offer a guarantee.
In our experience, offering a guarantee is risky because there is no certainty as to how the house will react to the mitigation system. There are just too many variables involved. However, E3 goes to great lengths to monitor radon levels before and after the mitigation to track the effectiveness of the design. If radon levels don't fall below 4 pCi/L with the proposed design, we consider additional tactics, such as adding a fresh air ventilation system, to provide dilution and positive pressure to the living space. Sounds nerdy, but that's the building science piece of our business that sets us apart from others.   
The homeowners were impressed at our thoroughness and felt confident in the on-going monitoring plan. They accepted E3's proposal, which not only included the traditional radon mitigation system (perforated PVC piping and a radon fan), but also a semi-sealed crawlspace and air sealing of the subfloor. These additional measures help keep radon, as well as heat and moisture, from moving in and out of the living space. So, in actuality, the homeowners are getting much more than a radon system; they are also implementing measures that can also improve indoor air quality, increase the effectiveness of their existing crawlspace dehumidifier, and reduce their risk of mold and mildew. 
Not too long before E3 began work on the Myers' home, Lisa purchased an AirThings Wave radon monitor to track radon levels over time. Lisa was thrilled to see levels drop as each component of the project was implemented (see figure below).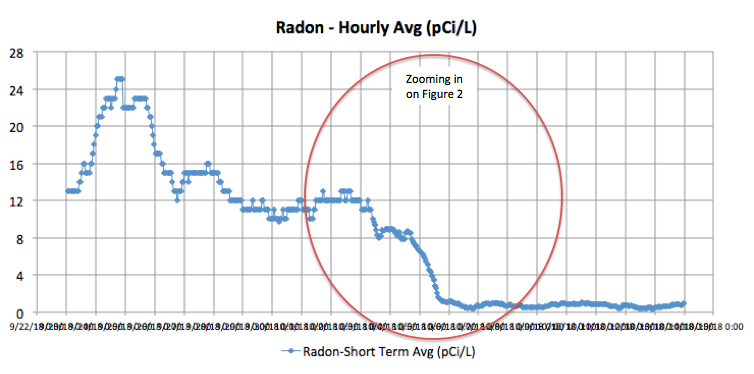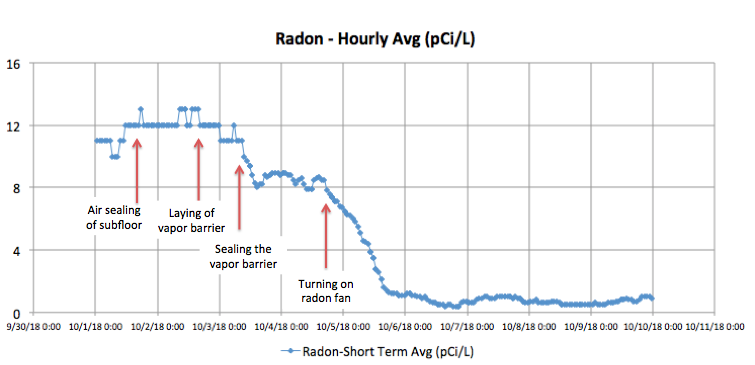 As new parents, Mike and Lisa were thrilled with the results and were excited to welcome their new baby into a healthy home!
Are you ready to create a healthy home for your family?
Call E3 INNOVATE today to schedule your whole-home assessment, 615-876-5479.