Winterize your Whole Home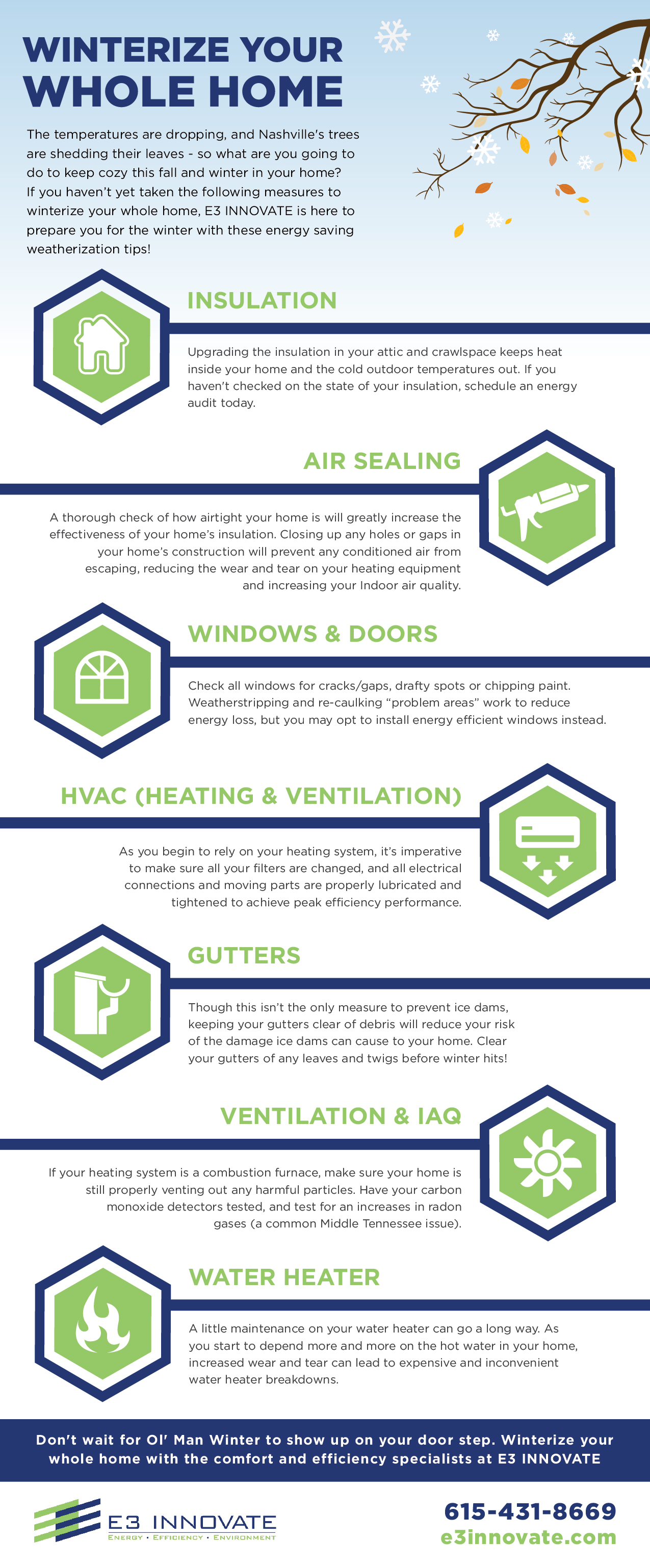 The temperatures are dropping, and Nashville's trees are shedding their leaves and green color—so what are you going to do to keep cozy this fall and winter in your own home? If you haven't yet taken the following measures to winterize your whole home, E3 Innovate is here to prepare you for the winter with these energy saving weatherization tips!
INSULATION
The majority of U.S. homes are under-insulated—but did you know that insulation keeps your home more comfortable year round? Upgrading the insulation in your walls, crawlspace, and attic keeps heat inside of your home, and the cold outdoor temperatures out. If you haven't checked in in the state of your insulation, schedule an energy audit ASAP.
AIR SEALING
A thorough check of how airtight your home is will greatly increase the effectiveness of your home's insulation. Closing up any holes or gaps in your home's construction will prevent any conditioned air from escaping, reducing the wear and tear on your heating equipment and increasing your Indoor air quality.
HVAC (HEATING & VENTILATION)
As you begin to rely on your heating system, it's imperative to make sure all your filters are changed, and all electrical connections and moving parts are properly lubricated and tightened to achieve peak efficiency performance.
GUTTERS
Though this isn't the only measure to prevent ice dams, keeping your gutters clear of debris will reduce your risk of the damage ice dams can cause to your home. Clear your gutters of any leaves and twigs before winter hits!
VENTILATION & IAQ
If your heating system is a combustion furnace, make sure your home is still properly venting out any harmful particles. Have your carbon monoxide detectors tested, and test for an increases in radon gases (a common Middle Tennessee issue).
WATER HEATER
A little maintenance on your water heater can go a long way. As you start to depend more and more on the hot water in your home, increased wear and tear can lead to expensive and inconvenient water heater breakdowns.
Don't wait for the Nashville snow to pile up before you prep your whole home for winter. Winterize your home with the home comfort and efficiency specialists at E3 Innovate!