A home that isn't performing at its absolute best will reveal itself in uncomfortable, annoying, and even dangerous ways. What are your biggest complaints about your home? The symptoms of your home performance issues can affect the cleanliness of your home, how much you pay in energy costs, and even the health of you and your family. 
Does This Sound Like You?
When It Comes to Your Home, You're the Expert
As E3 INNOVATE works with you to solve your home performance issues, we understand that no one spends more time in your home than you do. You are the best resource we have to understand the symptoms you deal with every day, and our goal is to solve your concerning  issues once and for all! The following symptoms provide us with the clues we need to uncover the best solutions for your home.
Which Symptoms Are You Seeing in Your Home?
1. Excess Dust & Dirt
Does your home have a dirty, dingy feel even after a deep clean?
Increased allergy symptoms, sinus issues, or headaches
Frequent dusting and dust buildup on AC vents
2. Condensation & Mold Growth
Condensation on the inside of windows in the winter
Visible mold growth in bathrooms, attics, or crawlspaces, on window sills, and on AC vents
Mold stains on bathroom ceilings and above leaky windows and doors
Increased respiratory issues in your home
3. Unpleasant Odors
House smells when you first enter, or certain rooms are notoriously stinky
Unpleasant odor after turning heating or cooling system on
Indoor air feels stale 
Stubborn musty or moldy smells
4. Humidity Issues
Air feels damp or clammy, even when the air conditioning is running
Warps, cracks, or cupping in hardwood flooring
Foggy windows
5. Temperature Discomfort
Home is always too hot or too cold
Inconsistent temperatures from room to room
House feels drafty, especially during the winter
Furnace or AC is constantly running
Cold floors in the winter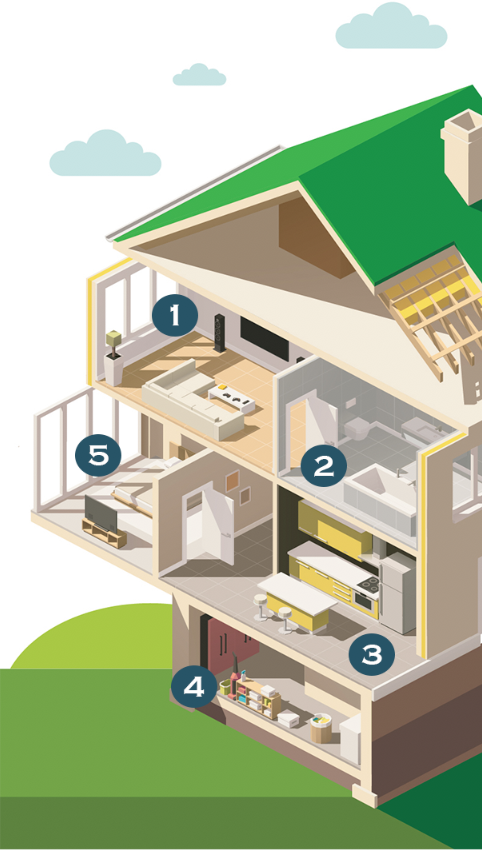 Nashville Solutions for Nashville Homes
In order to determine what is at the heart of your home performance issues, the team at E3 INNOVATE combines our extensive building science knowledge with the most accurate home diagnostic technology available. But more than that, we lean on our knowledge of the local Nashville climate and our commitment to the best in customer service to provide you with the customized home performance solutions your home requires. 
Imagine what it would be like to trust the temperature on your thermostat, to breathe healthier air, and to rid your home of that musty smell—all while spending less on your energy bill each month. With E3 INNOVATE, we will work tirelessly to solve your home performance issues, and get you back on track! 
Tired of the band-aid fixes when it comes to your home performance? Schedule an energy audit with Nashville's trusted whole home experts!
Ready to start your project?