Moisture Accumulation in a Vented Crawlspace
When a crawlspace such as this one is vented in a hot humid climate, hot moist air enters from the outside and condenses on cool surfaces, including ductwork, pipes, and even on all of the tiny surfaces of fiberglass insulation. This causes significant durability problems and promotes the growth of toxic mold. A stand alone dehumidifier would not be able to pump out this much water!
Because of the moisture problem in this crawlspace, the fiberglass was useless in providing any benefit (comfort or energy savings). Instead, it was trapping moisture agains the wood. Organic material (like wood) and water make the perfect environment for mold growth!
E3 removed all of the fiberglass and black laminate and replaced it with a sealed crawlspace system and a dehumidifier. Over the course of the remediation, humidity in the crawlspace dropped from 88% to 70%. Over the next two weeks, conditions normalized and humidity leveled off at 61% (see chart below). This was before the installation of the dehumidifier (stay tuned for updates)!
By sealing the crawlspace, E3 was able to effectively dehumidify the crawlspace, which helped to improve the durability of the home and minimized the risk of mold and mildew growth.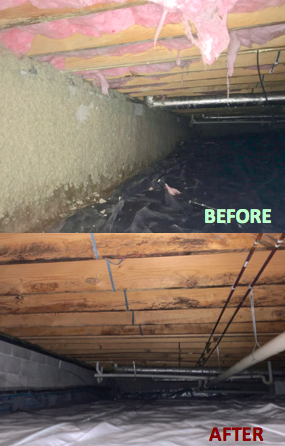 The figure below shows the reduction in humidity in the crawlspace during and after the remediation compared to outdoor humidity levels. Average humidity was 61% after the normalization period despite the high variability in outdoor conditions.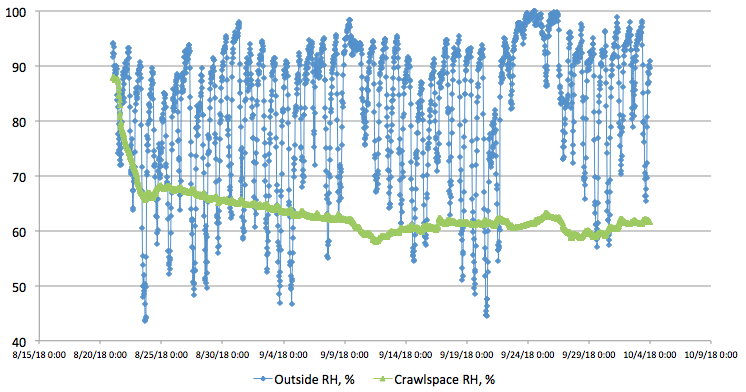 By sealing the crawlspace, E3 was able to more effectively control humidity in this area while improving the durability of the foundation and minimizing the risk of mold growth. 
Contact E3 INNOVATE today to get started on your crawlspace remediation.