An Integrated Approach
Whether you are making upgrades to an existing home, planning a new construction project, or renovating a historic house, the building science and home performance experts at E3 INNOVATE are in the business of making your Nashville area home or business comfortable, healthy, and energy efficient. 
Safe indoor air quality, continuous comfort, and long-lasting durability can be achieved when a home is designed with an integrated whole-home approach. If one or more components of your home performance is ignored however, issues can arise that lead to costly and inconvenient repairs, such as humidity problems, mold and mildew growth, radon concerns, and comfort imbalances.
That's why E3 takes an integrated whole-home approach with your project. We focus on five pillars of home performance while also addressing the details that make each component work as part of the system: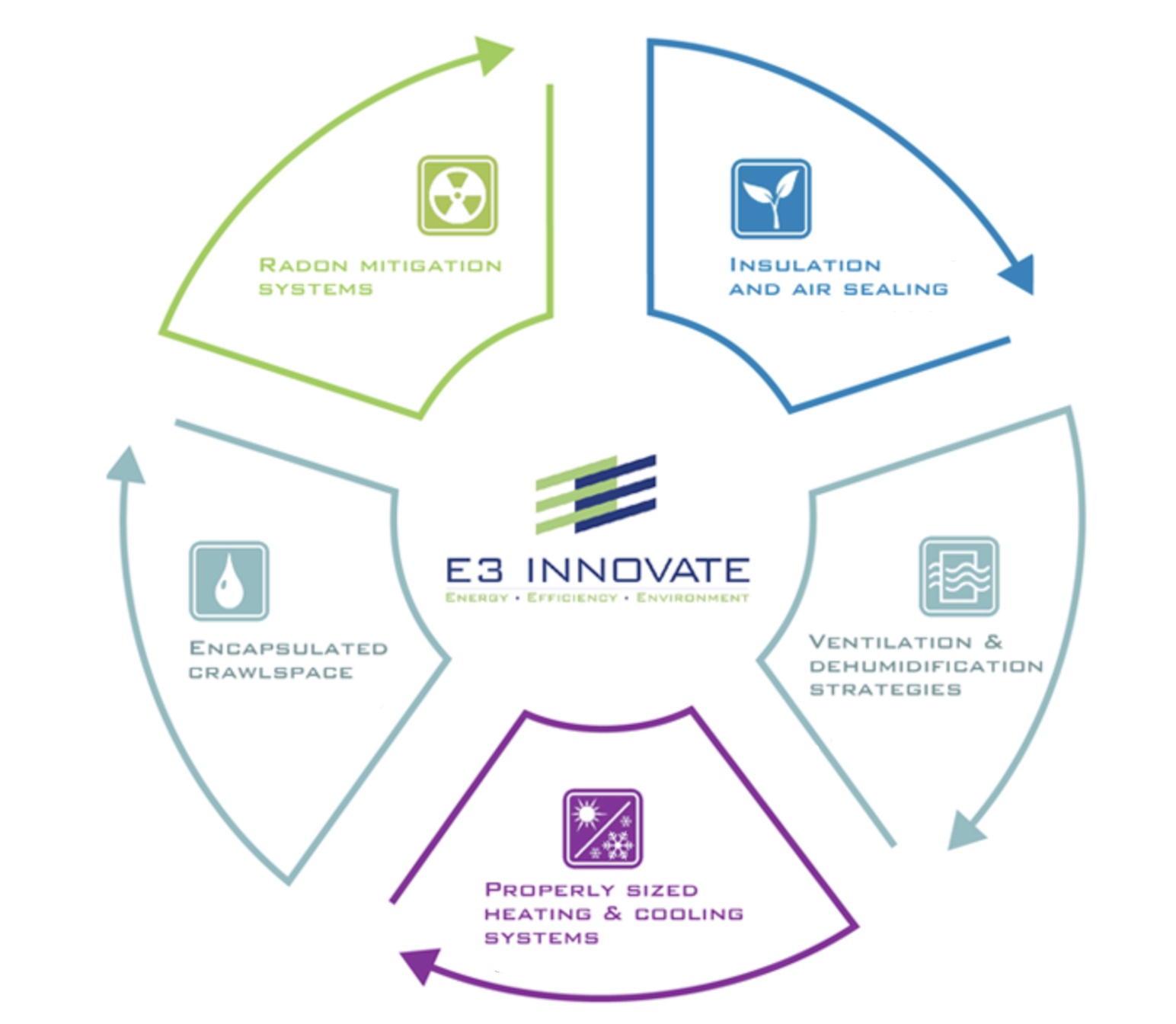 Our strategy helps ensure you get the desired results out of your investment. The E3 Process is comprised of three steps: E3 Strategy, E3 EcoWorks, and E3 Certification. While we recommend going through all three steps, we are also committed to customizing our services to meet your needs.
Connecting the Dots
The first step in understanding how your home is currently performing is with a diagnostic test of your home, called a home energy audit or a home assessment. This allows our building science experts to assess every aspect of your home performance, and come up with the perfect E3 Strategy for your unique project. 
For example, we may find that your air conditioner is barely able to keep up with cooling your home in the summer months, but that the problem is not the unit itself but leaks in your ductwork, combined with the inefficiencies in your unconditioned crawlspace or attic. Instead of replacing your air conditioner, we can seal and clean your ductwork, seal your crawlspace, and increase your attic insulation. This will then reduce the effort required by your air conditioner, meaning less wear and tear, lower energy bills, and more indoor comfort!
Nashville's Whole Home Authority
E3 INNOVATE began in 2008 with the firm belief that the home should be safe, secure, healthy, and energy efficient. E3 INNOVATE founder Eric Daugherty started E3 INNOVATE, LLC, after completing his Master's degree in Sweden. He witnessed first-hand how a whole community could be comprised of homes that were affordable, comfortable, and healthy for the inhabitants as well as the environment, and was inspired to bring that model to Nashville, the city where he grew up.
Our business philosophy is simple: Be the best company, employ the best people, and offer the best products and services. You can rest assured that we work with you and keep your home's best interest at heart.
Tired of the band-aid fixes when it comes to your home performance? Bring in Nashville's whole-home experts. Schedule an energy audit with E3 INNOVATE today by calling 615-876-5479 .
Ready to start your project?