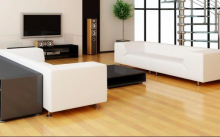 "We love our hardwood floors. They are clean, elegant, and withstand the harsh foot traffic of kids, pets, and parties. If we take care of our floors, they should last the entire life of the home! In that senses, they are a great economical and sustainable choice. So, what should we do to maintain our beautiful investment?"
The #1 thing to focus on is humidity control.
To understand why this is the case, let's talk science for just a moment.