Benchmarking; The innovative policy pushing for a greener America
Over the past decade, an innovative new form of environmental policy called benchmarking has been spreading throughout the United States, sparking a newfound sense of ecological responsibility amongst the American public. This measure not only aims to reduce the carbon emissions of cities, but also has the potential to significantly diminish the cost home and business owners pay for energy. What exactly is benchmarking, however, and why are so many American cities embracing the practice?
The building sector is America's single largest consumer of energy, accounting for roughly 40 percent of total energy consumption. With a price tag of $400 billion annually1, this excessive use of energy is neither environmentally nor economically sensible. That is where benchmarking, or the act of measuring a building's energy use and then comparing it to the average of similar buildings, comes into play. By requiring home and business owners to obtain an energy performance rating for their building, similar to what MPG represents for cars, benchmarking policies hope to bring to light how inefficient most structures really are.
As a result of receiving this information, the hope is that motivated building owners will take appropriate retrofitting measures to make their buildings more efficient. This increased efficiency benefits both consumers by reducing their energy bills and the common good by reducing carbon emissions. On top of that, these policies hope to improve the housing market by making the real cost of owning a home much more transparent. When searching for a new house, individuals don't only need to consider the price they pay up front, but also the long-run cost of heating, cooling, lighting, and many other energy-consuming amenities. The energy ratings obtained from these laws show buyers how efficient potential homes are, enabling them to make an economically and environmentally sound decision when choosing.
Perhaps most imperative to many Americans today, benchmarking laws present a massive opportunity for high-quality job creation. Given that building assessments and  improvements have to be completed by trained professionals, the citywide introduction of benchmarking is opening up an entirely new niche of high-demand work.  These jobs must be completed domestically, meaning that they can not be outsourced and continually reinvest in local economies. Rahm Emanuel, the mayor of Chicago, described the potential benefits of benchmarking in his city by claiming, "This ordinance will accelerate Chicago's growth as a capital for green jobs by arming building owners, real estate companies, energy service companies and others with the information they need to make smart, cost-saving investments"2. Chicago, however, is just one of the many cities which have adopted a variation of this progressive policy.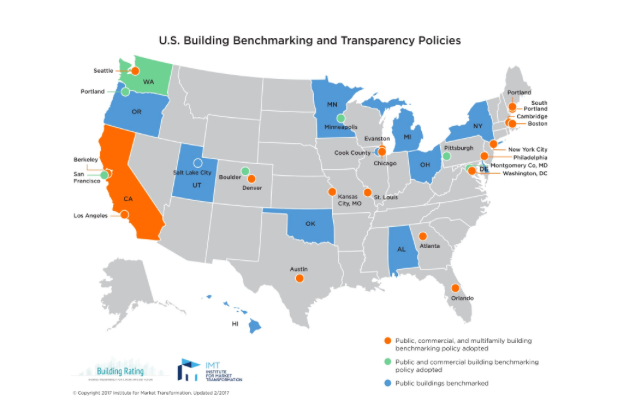 Source: Institute for Market Transformation
New York, Atlanta, Los Angeles, Boston, Denver, Portland and Austin are just a few of many others which have joined the benchmarking movement. They, in a matter of just a few years of practice, have already proved how benchmarking creates more sustainable cities.
"A survey conducted by the National Electrical Manufacturers Association in 2016 found that 84% of facility managers who benchmarked their facilities' energy use made a low- or no-cost operational change to improve their buildings' performance, while 82% invested in new equipment to improve their buildings' energy performance. The most common investments included lighting and lighting controls, heating and cooling upgrades, and energy management systems". 4
Finding out how efficient (or rather inefficient) buildings are clearly leads those responsible for their cost to seek out retrofitting solutions. Once provided the information necessary, as benchmarking policies ensure, home and business owners are able to assess how they should approach reducing their energy use. A similar study conducted in 2012 by the EPA, which examined 35,000 buildings that from 2008 to 2011 consistently used the Energy Star Portfolio Manager measurement tool to track energy use, found that energy consumption in those buildings decreased by an average of 7 percent.5 That 7% decrease in energy use can be equated to a 7% decrease in the price payed to power those buildings, and more importantly, a 7% decrease in the greenhouse gases those buildings were responsible for producing.
New as they may be, benchmarking policies have already succeeded in a variety of ways. They have made building energy use more transparent, have catalyzed a movement to sustainably improve American infrastructure and create jobs, and are actively reducing the carbon emissions the U.S. urgently needs to decrease. Although the federal government has clearly displayed its intention to disregard the threat of global warming, it's encouraging to see that cities are indeed working towards a sustainable future. These energy-saving policies are not only the smart thing to do, but are the right thing to do.
 
1.http://www.imt.org/uploads/resources/files/7.5IMT_Homeowner_Cost_Comparison_Chart.pdf
2.http://www.chicagocodes.com/2013/09/chicago-city-council-passes-energy-use-benchmarking-ordinance/
3. http://www.buildingrating.org/graphic/us-building-benchmarking-policy-landscape
4.https://www.nema.org/news/Pages/Energy-Benchmarking-Policies-Lead-to-Installation-of-Energy-Saving-Technologies.aspx
5.http://www.governing.com/topics/transportation-infrastructure/gov-does-energy-benchmarking-improve-efficiency.html