Just in Time for a Healthy Home Makeover
Last fall, a family of young professionals purchased their first home, an older home in the 12 South neighborhood that had fallen somewhat into disrepair after years on the rental market. The new owners wanted E3's help to ensure their new home would be a healthy living space for their young family.

E3 assessed the home and discovered a number of issues resulting from deferred maintenance—water and mildew in the duct lines, mold in the basement ceiling, a poorly installed HVAC unit, high radon levels, and a leaky building envelope. Fortunately, E3 was able to address these problems quickly, providing a home performance makeover that allowed the family to move into a healthy, comfortable home shortly before the arrival of a new baby.
Starting with the ductwork, E3 removed the old, dirty system and installed a new hard pipe duct system and an UltraAire whole-house ventilating dehumidifier to manage moisture and provide fresh, healthy air throughout the home. To prevent moisture infiltration and microbial growth in the basement, E3 installed a durable white laminate with antimicrobial silver in the crawlspace, sealing it with closed-cell spray foam for an added vapor and thermal barrier.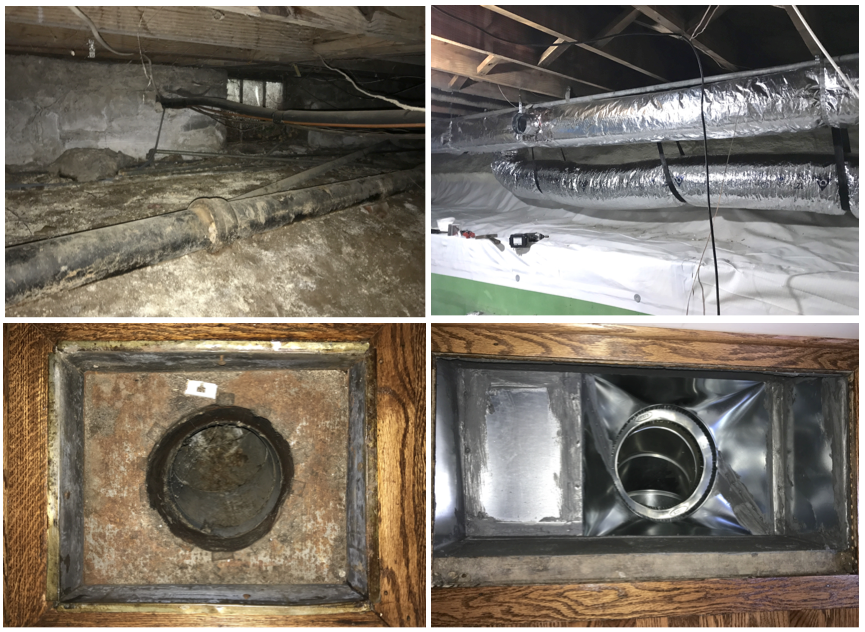 Many homes in Tennessee area are exposed to high levels of radon gas, a natural odorless gas that can cause lung cancer with prolonged, repeated exposure. Test results in this home showed that radon levels were above the EPA action level of 4 pCi/L. Fortunately, radon pollution can be diluted with fresh air to achieve safe levels; accordingly, the home's new ventilation system should effectively mitigate the radon threat by providing a steady stream of filtered air throughout the home.
While the crawlspace sealing, new ductwork, and ventilation system will go a long way toward reducing moisture and improving indoor air quality, E3 recognized that the new systems could be made more effective by better sealing and insulating the home's attic, simultaneously improving the home's energy efficiency. Prior to the project, the home had no attic access, so E3 installed an entrance, opening new storage space for the homeowners. E3 then air-sealed and insulated the attic with a combination of closed- and open-cell spray foam and blown cellulose insulation, reducing air leakage that can contribute to higher energy bills. Additionally, the ICYNENE Classic Max spray foam used on the roof deck will provide enhanced fire protection.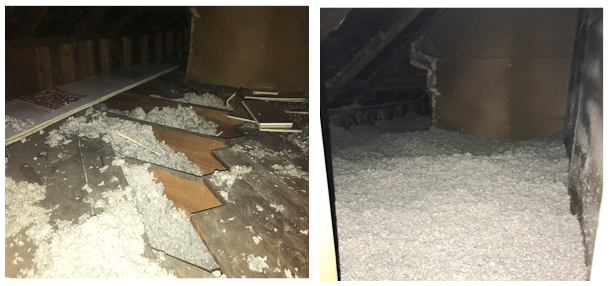 E3's work yielded impressive results for the home. Before and after testing showed a remarkable 71% reduction in total duct leakage, as well as a 10% reduction in air leakage to the outside of the home. Through significantly reduced air and duct leakage, the home's heating and cooling systems require less energy to keep the home at a comfortable temperature year-round.
Perhaps even more significant for the young homeowners is the peace of mind knowing that the home is now a very healthy living environment in which to raise their children. The sealed crawlspace and attic, new ducts, and fresh air ventilation system will help to ensure excellent air quality and comfort for years to come.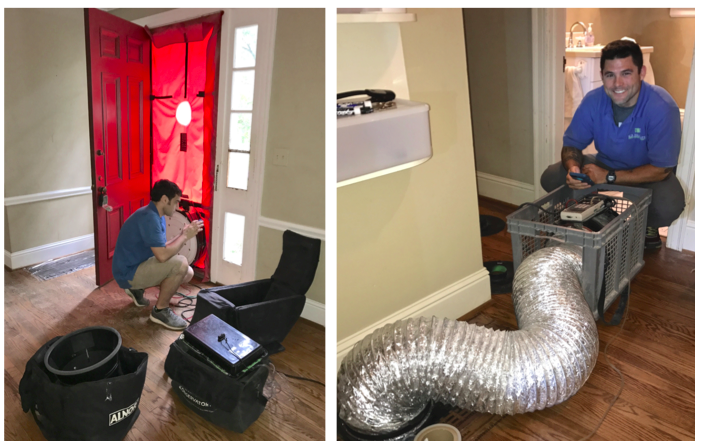 Contact us today to get started on your Healthy Home Makeover!